Col. Jack Salmon, U.S. Air Force (retired)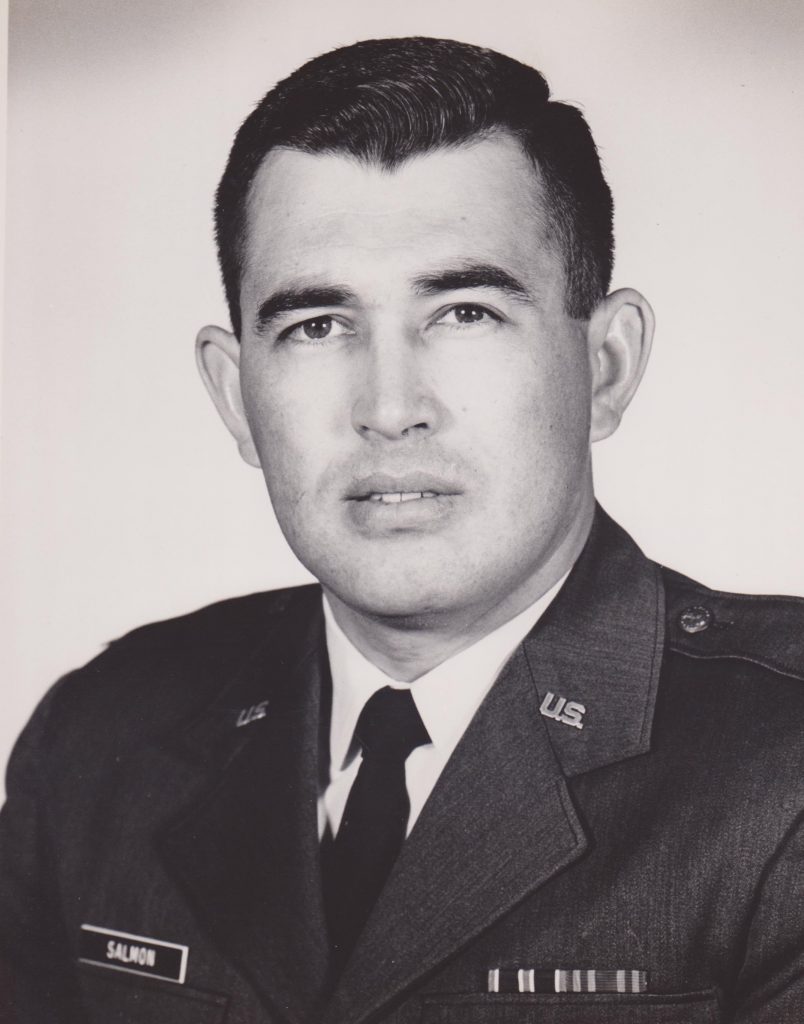 Col. Jack Salmon, 84, of Universal City, passed away Oct. 23, 2022 in La Jolla, CA. where he had been living with his son and grandchildren. Jack was the first of nine children born to Milton Henry and Estanislada "Tanis" (Guardiola) Salmon in Caldwell County on July 8, 1938. He grew up on a farm in the Martindale and Staples area, attending school in Martindale and graduating from Seguin High School in 1957 where he was voted "Most Handsome". He played football, basketball and field sports for the Seguin Matadors. He learned great work ethics from both parents while working on the farm. He also worked at the San Marcos Cotton gin and one summer at the cotton gin in Bishop.
Jack received his Bachelor of Business Administration Degree at Southwest Texas State Teachers College in San Marcos, Texas where he was commissioned as a 2nd Lieutenant through the Air Force Reserve Officer Training Corps in 1961. Jack spent 30 years in the Air Force, where he held assignment in Colorado, Hawaii, California, Korea, Virginia and Texas. He always considered Texas as "home" where he retired near San Antonio. His decorations include the Legion of Merit, the Meritorious Service Medal with three oak leaf clusters, the Air Force Commendation Medal with one oak leaf cluster, the Army Commendation Medal, the Air Force Achievement Medal, the Air Force Outstanding Unit Award with one oak leaf cluster and the National Defense Service Medal, as well as many other awards. He earned a Master of Science in Personnel Counseling and Guidance at Troy State University in Montgomery, Alabama. After retiring from the Air Force, Jack was a sales representative for the National Federation of Independent Business, a lobbying organization for small business. He retired again and then became self-employed as an all-around handyman.
Jack was preceded in death by his parents, his son Bradley Steven Salmon, his sister Katherine Contreras and by Paula Taylor, the mother of his sons. He is survived by his son, Gregory Scott Salmon (Kathrin) and his grandchildren Anna Salmon and Ben Bradley Salmon of La Jolla, Ca.; his wife Billie Salmon, his sisters Frances Ybarra and Louise Ramirez of San Marcos, Josephine Robinson of Kingwood, Margaret (William) Groves of Lockhart, and his brothers Milton Henry Salmon, Jr. (Janis) and Carl Rocky Salmon (Darlene) of Redwood and Richard Roy Salmon of Martindale, as well as numerous nieces, nephews, great nieces and nephews, and lots and lots of cousins.
Services will be Tuesday, Nov. 22, 2022 at 11:00 a.m. at Fort Sam Houston Cemetery in San Antonio. In lieu of flowers, the family requests a donation be made to the American Cancer Society.