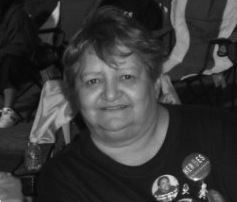 Mercedes Sanchez was born on September 24, 1948 in Lockhart, Texas and passed away on Monday, August 6, 2018. She was preceded in death by her father, Jose Garcia Sanchez, her mother Elvira Castillo Sanchez and her sisters Virginia Sanchez Leija, Angela Sanchez Islas, and Yolanda Sanchez Hernandez. Mercedes (Mercy) is survived by her two daughters Raquel Ester Sanchez and her son Jago and Melinda Melissa Sanchez and her son Isaac. She is also survived by her brother Joe Sanchez Jr. (Geneva) sister Maria Mayo (Gilbert), sister Elvira Trevino (Antonio), sister Emma Robinson, brother Marcos Sanchez (Belle), sister Esperanza Balandran (Armando), brother Freddy Sanchez (Mary Lou), and brother Rudy Sanchez as well as numerous nieces and nephews, whom she dearly loved.
Mercy, as she was known to family and friends, was a hard worker from an early age picking cotton alongside her siblings and then transitioning into a working woman and mother. She held different jobs throughout the years but always provided for her children and passed that on to her two grandsons. She loved to laugh and have fun, especially with her family. Mercy would spend a Sunday tubing down the San Marcos River, enjoying a barbecue or spending time with family. She was a strong woman who fought a tough battle with cancer and will be missed by all who loved her. Memorial services will be held Saturday, September 1, 2018 from 10 a.m. to 1 p.m. at St. Mary's Catholic Church Parrish Hall at 205 W. Pecan St. in Lockhart, Texas.
To view and sign the guestbook, visit www.post-register.com/obituaries/Mercedes-Sanchez.