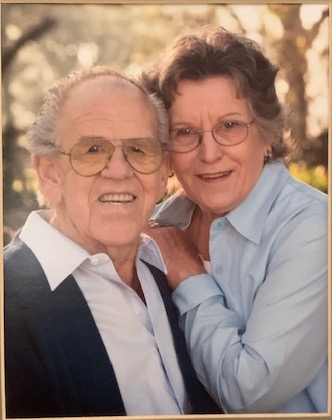 July 6, 1939- April 13, 2023
Jane Loep Johnson, age 83, of Harwood, Texas went home to be with her Lord and Savior, Jesus Christ, Thursday April 13 in Kyle, Texas surrounded by her family.
She and her twin sister, Janet, were born on Thursday, July, 1939 in Caldwell County, Texas to parents, Roland and Olga Towers Loep. She married Archie Johnson on May 13, 1958, and were married until his passing on their 50th wedding anniversary May 13, 2008. Jane is survived by daughter Linda Webb-Mercer; son Robert Beverly Johnson and wife Angela; son Johnny Johnson and wife Shirley; and son Michael Johnson and wife Joy. Her beloved grandchildren: Robert Johnson (Brittany); Matthew Johnson; Amanda Sepeda (Clyde); Johnny Don Johnson (Mayra); Misha Key (Travis); Cathi Davis (Jarod); Lindsey Larison (Brian); Michael Johnson Jr. (Paige); Katelynn Brand (Massey); Grace Lunsford, Colt Johnson (Cheyenne); and Kailey Johnson and great-grandchildren: Aaron, Madilyn, Makenna, Preston, Bryson, Archie, Emerson, Everly, Kase, Ryder, Olivia, and Landon. Her Siblings: Nancy Donnell, Janet Voigt-Mahan, Harvey Loep, Nathan Loep (Billie Ann), and Kathy Sellstrom (David) along with numerous nieces and nephews, cousins, and friends. Jane was preceded in death by her parents, husband, brother Daniel Loep and a grandson Adam Webb.
Jane enjoyed family get togethers where for years she cooked Sunday dinner for the whole family. She also enjoyed jewelry making and made sure all her outfits had a matching necklace, bracelet and earrings. But her true passion was wildflowers, she drove all over Caldwell County photographing every one she could and labeled and memorized the names of each. In the spring, the yard would not be mowed until wildflowers all went for seed.
She graduated from Lockhart ISD and after many years of service retired from Gonzales ISD. She was perfectly happy at home with her dogs, visiting friends, seeing her kids and grandchildren and enjoying her hobbies for the rest of her life. Jane was a long-time member of the Harwood Baptist Church.
In lieu of flowers the family would like donations made in her memory to Harwood Baptist Church, P.O. BOX 93 Harwood, TX 78632, St. Jude Children's Hospital or an organization of your choosing.
Visitation is Tuesday, April 18, from 9 to 10 a.m. at Harwood Baptist Church and funeral to follow at 10 a.m. also at the church. She will be buried immediately following at Harwood Cemetery. Pallbearers are Johnny Don Johnson, Michael Johnson Jr., Colt Johnson, Bubba Damon, Keith Zumwalt, and Glen Zumwalt.
Arrangements are under the direction of Thomason Funeral Home, 2220 S Colorado St, Lockhart, TX 78644. For more information and to sign the online registry, please visit thomasonfuneralhome.com.